League Cup Round 2 Results
February 21, 2013
4th Annual Futsal Cup Schedules Released
March 11, 2013
Congratulations.
Gunners FC capture the 2012-2013 Futsal League Cup.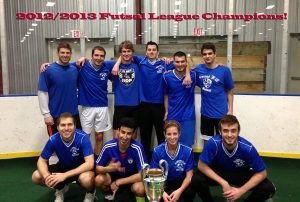 Statistics on Gunners FC Undefeated Season:
– Second Cup Title for the Gunners FC franchise.
– 2009 4v4 (Monstars)
– Also went 13-0 that summer of 2009.
– Scored over 70 goals in 13 weeks.
– Skipper Laith Zuraikat came to the final prepared with an outline of substitution times and lines that was just too much to match for opponents FC Penn Run
Thanks to all who played. See you at 4v4.
For complete statistics of the 2012-2013 Futsal Season click here.