ICFC Concert Series: Jeff Kelly & The Graveyard Shift, with Alyssa Hankey
February 11, 2019

ICFC Concert Series: The Legendary Hucklebucks, with Melville Walbeck
March 4, 2019
Volume 1 Issue 3
Dear Player,

Welcome to the February 2019 edition to the ICFC Newsletter, in which we look forward to some spring offerings and also track some of the happenings in the final leg of the futsal season. In this issue: McNaughton Brothers, Inc., Thom Shively, Terry Monteleone, Picasso Lures, Winter Futsal playoff update, David McKelvy scored goals, Jeff Kelly & The Graveyard Shift, Adult 7v7 league draft day, Winter Futsal championship day & party, Monthly ICFC Board conference call, and Monday is Women's Pick-up day.

Enjoy,
ICFC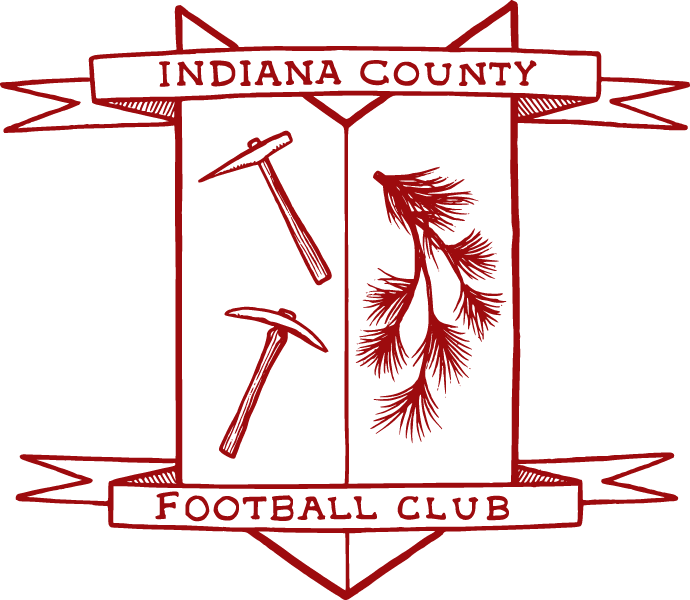 Sponsor of the Month: McNaughton Brothers, Inc.

McNaughton Bros., Inc. was founded in 1918 by Roy and Beau McNaughton to move deliveries from the Indiana train station to local retailers. Today it is owned and operated by Luke and Thom Shively, who purchased it from their father, Bob Shively. McNaughton Bros. specializes in the relocation of household goods locally, around the country, and around the world. According to Thom, McNaughton Bros. decided to support ICFC "because we saw a local community organization that would appreciate the support and is directly associated with a sport that I enjoyed participating in. We also see where our nephews and sons are going to be involved with ICFC."
When presented with our sponsorship options, Luke and Thom very graciously said "How about we do this, instead…" and pledged a 5-year, $1,000-per-year commitment. They'll be featured on kits in all three of our current leagues over that time. ICFC is beyond grateful for this pledge -- thank a Shively when you see them!
Member of the Month: Terry Monteleone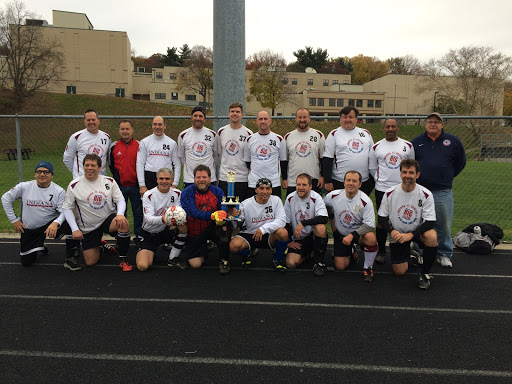 Terry (pictured front row, far right) has been running the ICFC over-40 team for the entirety of its 12-year existence. "When we started the team," he remembers, "we were like the Island of Misfit Toys, but we had a lot of fun. We stayed at it, gained and lost players due to injury or life, and eventually became pretty competitive, going to four championship matches in a row and winning two of the four and earning our way into the premier league."
Terry says that he keeps playing and managing "because when you first step onto the field you feel like a kid again. You realize what a privilege it is to play." Terry is also active in ICFC's winter futsal and summer 4v4 leagues. He cites "inclusiveness" as his favorite part of ICFC: "Almost all ages and abilities get to participate and have fun in the programs. Everyone has something to contribute… I get to play with kids that I have coached for years, including my daughter Jenna, as well as many on the over-30 and over-40 teams. Talking a little smack with guys you play with and kids you coach makes it feel like family."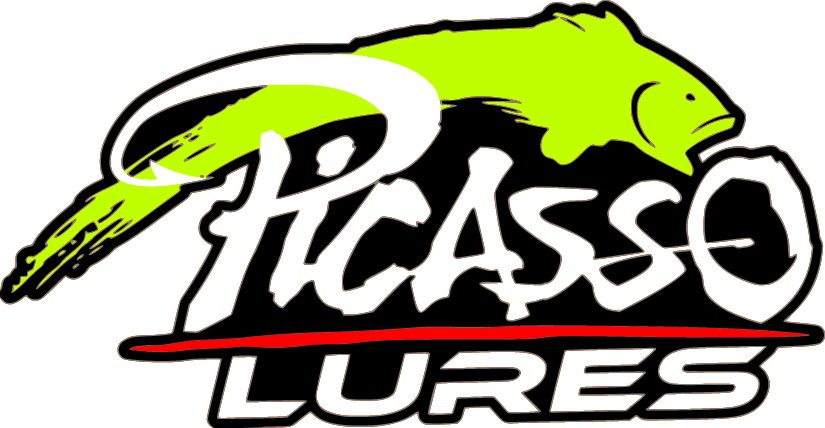 Picasso Lures, which manufactures high-end tackle for anyone looking to catch more bass, but especially tournament-level fishers. (Club note: Picasso is sponsoring a 4v4 team this summer!) Picasso's lures are sold all over the US and internationally, mostly to retail stores. Customers can purchase lures online at
Picassolures.com
.
Terry and his wife Heidi, who is an endodontist, have three children and live in Indiana. Terry also loves downhill skiing and tournament bass fishing.
Winter Futsal League Table
Congratulations to Sporting McKelvy, who won their first ever Winter Futsal Community Shield. This trophy is awarded to the squad finishing atop the table after the full round-robin regular season. Impressively, Sporting McKelvy took all 27 of the available 27 points in the campaign. Teams will now compete for two separate cups: the Premier Cup, a tournament of the top 6 teams in the table, and the Community Cup, a tournament of the bottom 4 squads.
Last Month's Happenings
Correction!
In announcing the 2018 awards given at the annual holiday party, we neglected to include the winner of the Golden Boot Award, given to the club member deemed most likely to score a goal when the ball touches his/her foot. Congratulations to
David McKelvy
, the winner of the
2018 Golden Boot
.
Upcoming Calendar Announcements & Special Events
ICFC Concert Series: Jeff Kelly & The Graveyard Shift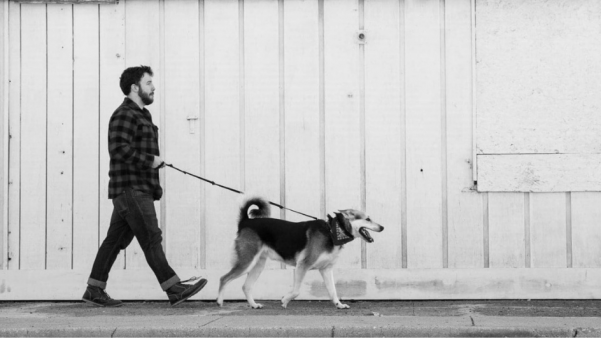 Saturday, February 16th, 7 PM at Disobedient Spirits
The third show of the 2018-19 Concert Series features the music of Massachusetts-based group Jeff Kelly & The Graveyard Shift. Kelly sings of the human experience with a sense of vulnerability and grit that is both familiar and authentic. Honesty and attention to detail are at the root of each song, and the emotion and experience are not lost on the listener. Tickets are
$10.00 online in advance
or $12.00 at the door. Please consider attending this event. The ICFC Concert Series may be the best-kept secret in Indiana County.
indianacountyfootballclub.com/jeff-kelly-with-alyssa-hankey/
Adult 7v7 Draft Day: Sunday, March 10
Our adult (21 and over), co-ed 7v7 league is in its second year in 2019 and targets committed players who are looking for formal, structured, recreational soccer without the intensity and travel of other regional adult leagues. All matches are played Sunday evenings at the fields behind White Township's S&T Bank Arena. There will be 4-6 teams, depending on registration numbers, with each team playing at least 12 matches split between spring and fall sessions in a round-robin format. Any severe weather postponements will be made up in the fall. Everything you need to know is here on the website.
indianacountyfootballclub.com/adult-7v7/
Futsal Final Club Gathering: Sunday, March 31
The Futsal League Final is scheduled for Sunday, March 31st and will feature the final two squads remaining in the Premier League Cup. We invite all club members and their families to join for the final ceremony, where we will present trophies to the Community Cup winners as well as the Community Shield winners prior to kickoff. The ceremony will include lineup announcements, halftime activities, and a
post-game pizza party
. Please join us in creating a fun soccer atmosphere for this year's final match.
Other Club Happenings
Board of Directors Meeting:
First Monday of every month, 9:00 pm. Conference call format. Members are invited to dial in, listen, and contribute. For call-in credentials, email us at
[email protected]
.
Women's-Only Pickup:
Every MONDAY, 8-9 pm. Sessions include skills and drills led by experienced coaches, followed by gameplay. No previous experience necessary. $10.00/player per session. Email us at
[email protected]
to get on the mailing list for updates.