Upcoming Calendar Announcements & Special Events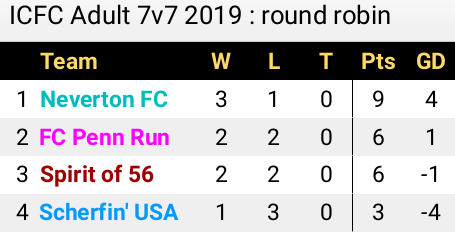 Adult 7v7 Table
Leading into the summer transfer window, the final week of the 7v7 spring session brings in a true derby as FC Penn Run and Neverton match up to claim the top seed. Spirit of 56 continues its title defense against first-year outfit Scherfin' USA.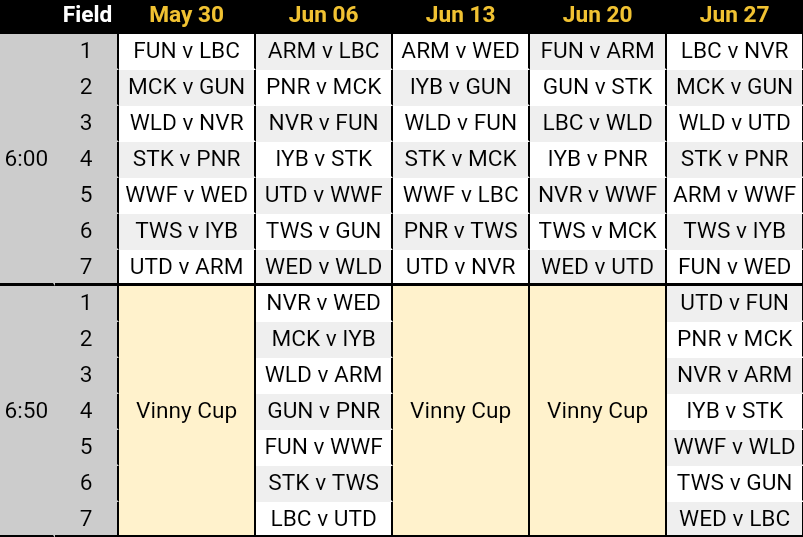 Summer 4v4 Schedule
It's the most wonderful time of the year! 4v4 is officially underway. Group play is ongoing for both the Community Shield and the Vinny Cup. Weeks 8, 9 and 10 will be League Cup Play!
Reminder: Week 8 matches will be played on Wednesday, July 3rd!
Also, on that day The Board will publish our inaugural fiscal annual report, wherein all can see how The Club accrued and spent money in 2018-2019.
Park Clean-up Day
Saturday, June 15, 10:00 AM
Park Clean Up Day has been tentatively scheduled for the morning of Saturday, June 15th, beginning at 10 AM. Club members looking to give back to the White Township Park facility can dedicate a couple of hours to cleaning up the playground area. Email reminders will be sent, but please RSVP to
[email protected]
if you plan on attending.
ICCAP Power Pack
ICCAP's Power Pack Program was established in 2009 to meet the weekend nutritional needs of children experiencing food insecurity in Indiana County. Currently, the program serves nearly 800 eligible children in 12 Indiana County elementary schools on a weekly basis during the school year.
Children are provided with a weekend package of food that includes breakfast, lunch, dinner, snacks, and drinks. The program is funded by donations of food from corporate sponsors, local grocers, private contributions, and volunteers from the community.
This year, during 4v4, we will ask each player to donate one food item per week off of a designated list of eligible food items to contribute to this local cause.