Players
Despite the snow, and the cold, I am here to announce the end of our winter league, as well as to promote the end of winter 3v3 tournament.
First things first.
This years end of winter 3v3 tournament will take place on Saturday March 21st. This will mark the 6th year of the tournament. Traditionally when the club started we called this tournament 'the futsal cup.' We did this because we didn't have the organization of a winter league. I can remember in our first couple years, winter matches didn't exist, and it was just a show up and play on Thursday nights. Sometimes there would be 40 of us, sometimes there would be eight of us. Since then we've incorporated the 'the futsal cup' into the award that teams receive for the best record over a 12 week winter season. My how far we've come. I really do enjoy sitting back and thinking of where we used to be, to where we are now. I enjoy seeing players sticking with the sport, seeing who returns during a holiday week after being away for school. Or maybe just catching a match because they're home visiting families. It really is what club soccer is all about, just playing. Sometimes with keeping scores, and tracking results, we lose sight of that. With the way our club is formatted, you're not always going to be on the best team, and you're not always going to have your best days, but regardless of the result, always remember that the club is happy to have you.
Nonetheless….onto the news:
3v3 Tournament
I've added a specific web page in the navigation bar to the left. This is where you can find all details for the tournament. Waivers, eventual schedules, etc. Kickoff day is Saturday March 21st at 8am. We will be running 2 fields simultaneously using 6ft pugg nets. Cost is $75.00 per squad, and all proceeds after expenses will go to the IHS Girls Soccer Team. These funds are used to outfit the team with warm-ups, gear, and other items such as providing a cut rate for team camps, and clinics. Your participation is greatly appreciated. Further details can be found here. I recommend 5-6 players per squad, and I will cap the field at 12 or 16 teams. Meaning after 12, teams 13-15 will only be included if a 16th squad will participate. (Basically, creating tables for 13, 14, and 15 team tournaments, is a hassle, and I don't feel like doing it.) Match day kicks off at 8am promptly and we are finished before 2pm. Where we then share a pint, and talk about our soccer shortcomings.
Winter League Recap
In the end the top two teams of their respective tables collected the cups. Congratulations to League I winners FC Panzer, and League II winners Scholars FC.
League II Final:
FC Scholars 4 FC Penn Run 3
With FC Penn Run playing their second match in a row they were rolling in the first half. Goal, goal, goal, and it's halftime with FCPR up 3-0. No problem, I'm thinking hardware, I'm thinking where I'm placing my star on my shirt. Scholars say no chance. They're gritty style of play, and second half keeper change turned the tables, and with in minutes of the second half it was 3-2. 10 minutes left and we're all square. Chance after chance, Scholars denied. When you're a goal scorer and your thinking you can't beat the keeper, you're done….I was done. Scholars tally with under 5 to go. It was too much for the FCPR. Scholars win with a rope a dope style that in League II was no match for anyone. Three times FC Penn Run played scholars in the season. Three times they led at the half. Three times they lost the match. FC Scholars deserve the cup, and the star. Hats off to them.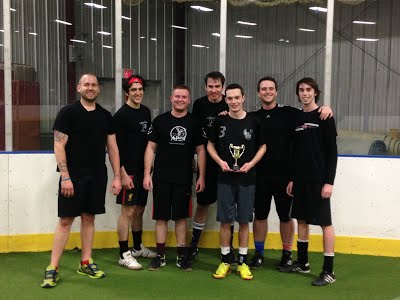 League I Final:
FC Panzer 8 IHS Boys 3
It was a shellacking, it was a Cinderella story, everything they shot at the net went in, it was a 'we can do no wrong' type match. It was the play-in game prior to the finals where IHSBoys had to win to make it to the finals and win they did. So here they were in the exact same spot a week later, against the exact same team, with an entire rink full of supporters. All they had to do was score first. Score first, and FC Panzer would of crumbled, they would of been rattled by the hecklers, but Captain Joe said no. Captain Joe also scored the first three goals. Captain Joe also threw kids around half his senior. Captain Joe let it be known that these boys aren't there yet. Captain Joe, this week, could not and would not be beat. FC Panzer went up early, IHS Boys kept fighting, tallying to make it 4-1. It would be as close as they would get.
Outside of the recap. To let a high school team into our semi-structured, non-traditional club style league was a hesitation at first. However, I believe they became better players because of it. I believe they got to see what a good community soccer club can offer, and I hope they stick with it. IHSBoys if you do indeed refer to this website, my hat goes off to you. Take notice of the club offering that you have available to you now, and persevere. Don't ever think your skill-set is not good enough to compete, show up, work hard, and you'll be fine.