Season Standings can be found here.
A huge thanks on behalf of ICFC goes out to all of the players, families, etc in making the 5th season of 4 v 4 the most successful to date. This is a great community soccer program, and I only hope for it to prosper and continue through the winter season, and onto next summer.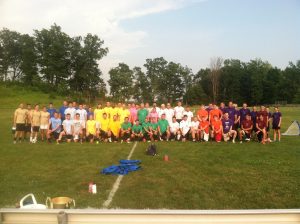 Week 10 Game 1:
Real Mateer upset Gunners FC, Rovers win their way into the finals, Bucks, Tunes, FCPR close out regular season with victories.
League 1 Final Recap:
Gunners 14, Tunes 4. Everyone was pulling for you Tunes, but in the end, Gunners were just too organized.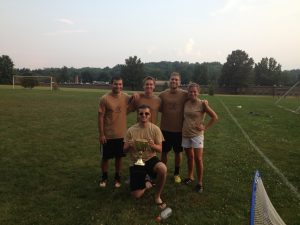 League 2 Final Recap:
South Shore Rovers 3, FC Penn Run 0. Cinderella South Shore Rovers overcome week 9 own goal, elimination, humility, and prosper in week 10 with defense, skill, and just a tiny tiny bit of luck. Which is what you need in a final.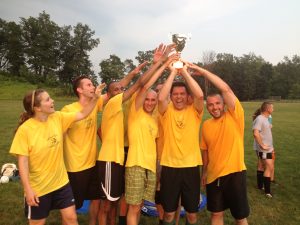 Commissioner Notes:
TunesSquad – Formerly known as SwanSee City, carried the best overall record throughout the League Cup portion of the season.
Gunners FC – As much as I hate on the Gunners, they played the final 3 weeks with 0-1 subs and won when it counted most. They are beatable, but rarely, they also swept the Winter Futsal League. Dynasty perhaps? As long as they have Crystal. Highest goals for. Largest +/- of any squad.
Young Bucks – Young, and good. A couple player vacations short of playing for a cup indeed. Scored second most goals in the league BUT gave up the most goals in League 1.
Real Mateer – Former League 2 Cup holders. Made the cut to League 1, prospered at times, dismal at other times.
Sporting MW – It is like a true 4 v 4 farm system of players. Start-em young and small, in the following year they're rolling you over. The model franchise. The Oakland A's of 4 v 4. Former League 2 Cup winners, held their own in League 1. Could be scary good in following years.
FC Penn Run – Have played for a cup 4 of the last 5 years, winning 2 of them. Scored the most goals in League 2. Demoted to League 2 due to a slow start, carried the longest winning streak of the league at 6 games into the finals. Missing ageless legend Vince was a key factor in the finals. As he had also scored in the previous 6 games.
Inter 40 – Strong showing, double goals makes them always in it, and when they're numbers are strong, they are unbeatable. Being short on subs in week 8, I think, cost them a cup appearance.
Grubsquad – A nice collection of skill players, tough players, scrappy players, and the perfect mix of young adult attitude. Definitely the league villain, but they played the roll well. Not dirty, just annoying, which can be an effective game plan. Maybe, sometimes, a little over the line, but you'll have this. I hope they return in 2014.
United Athletic – They've got players that can play, no squad comes in to their initial season and wins, a few transfers before the deadline could of thrown them into the mix. Next year they'll be stronger, and more organized no doubt.
South Shore Rovers – You could maybe call their League 2 cup title an upset. Let us not forget that just a season ago they were the FC Penn Run step child operating under Penn Run City. Had a 1-9 Round Robin record. ONE AND NINE. The victory came via forfeit! None of this matters in cup play however, as the best defense in League 2 (lowest goals against) prospered conceding one own goal in the opening match of week 10, and shutting out high scoring FC Penn Run. Nate is still sending me photo's of the cup. It's that serious.